What pairs best with a scenic coastal town with endless attractions, restaurants, shops, and events? You guessed it, coffee and sweets! Mystic is home to some of the best bakery's in the area, and we got you covered with a guide to find the perfect one for you!
Sift Bake Shop
A French focused bakery in the heart of downtown, Sift has become a Mystic staple. From fresh breads and pastries around the clock to creative and decadent desserts and sweets, Sift is the perfect place to satisfy your cravings. Both savory and sweet, Sift has something for every type of taste bud. Head upstairs for Mix Rooftop & Bar, where pastry-inspired cocktails and other beverages and plates can be enjoyed with a rooftop view of downtown Mystic.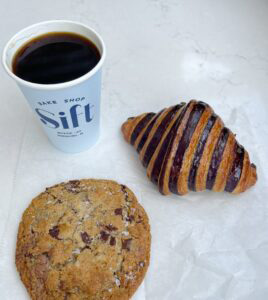 Nana's Bakery & Pizza
Nana's is an organic Bakery and Pizza shop located on the water. They use naturally leavened dough using regional and sustainably grown grains to bake fresh breads and pastries daily, ensuring customers are getting only the best. They also utilize the mold Koji, grown by sister company Moromi Shoyu, to leverage and amplify umami in pizzas, drinks and baked goods. From warm cinnamon buns to almond croissants and macaroons, Nana's ensures only the best quality foods for their customers.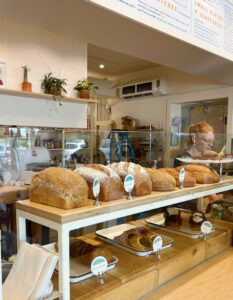 Young Buns Doughnuts
Brought to you by the family and team behind Sift Bake Shop, Young Buns Doughnuts are sure to leave you wanting more. Made from scratch daily, these doughnuts are unlike any doughnuts you've ever tried. The team goes above and beyond to creatively transform classic doughnuts into an experience. Not only are they appealing to the tastebuds, but to the eye as well!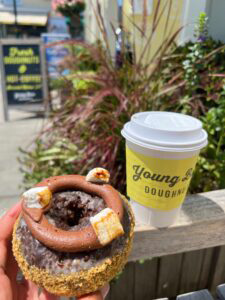 Deviant Doughnuts
Deviant Doughnuts utilizes a creative flare and artisan skill to transform doughnuts into artwork. Each week is a new extravagant theme where they creatively master the art of sweet treats. From pirates, dinosaurs, breakfast foods and so much more, Deviant Doughnuts never fails to go above and beyond in delivering a uniquely sweet experience.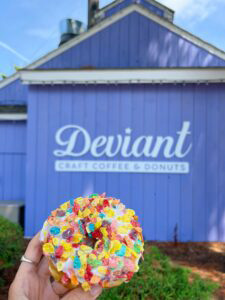 Li's
With a wide selection of freshly baked goods, Li's is known for their cookies, coffee, cakes, and so much more. Located on Schooner Wharf, nothing beats a freshly baked doughnut with a morning view of the Mystic River! Li's brings a classic flare that will leave you feeling nostalgic about grandma's baking. From Pistachio Lemon Coconut pound cake to S'mores chocolate cake, Li's has something to satisfy any sweet tooth.  
Karma Kitchen & Juicery
Looking for something sweet, but without all the sugar? Karma kitchen offers artisan crafted juices, smoothies, teas, and other clean eats. From cold-pressed juices to freshly made smoothie bowls, Karma will have you feeling happy and healthy. They also have a selection of sweet treats! From Red Velvet Beet tarts to Pumpkin Spice Peanut Butter Cups, Karma Kitchen sticks to their motto of health and wellbeing while enjoying the sweetest things in life.