Mystic Pizza   
Mystic, Connecticut is full of incredible restaurants and some of the best Seafood on the East Coast. However, if you're not a Seafood fan (we won't hold it against you) or you've had your fill of Lobster Rolls and Clam Strips, we have the perfect alternative for you. A very Pretty Woman recommends A Slice of Heaven from Mystic Pizza (Julie Roberts)! Amy Jones, a screenwriter who was summering in Mystic, decided to make a movie out of a staple pizza shop downtown. Never seen the movie? (We won't hold that against you either- although that's a tough one) You're in luck because it's streaming on several televisions throughout the restaurant!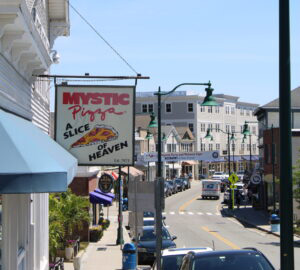 Pizzetta is located on Water Street and they have an absolutely insane menu full of specialty pies, grinders, salads, appetizers, and so much more. Some of their specialty pies include Mac & Cheese, Pesto Splash, Philly Cheese Steak, and Stuffed Baked Potato (um hello, we'll take one of each). We also have to give a special shoutout to their BBQ Chicken Pizza- MAGIC. They also have entire Vegetarian and Vegan menus, there is literally something for everyone!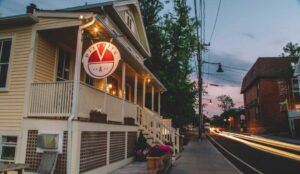 Mango's Wood-Fired Pizza
Mango's Wood-Fired Pizza has craft beer, artisan pizza, and locally sourced ingredients, it can't get any more community oriented than that! They're located in the Mystic Village, over by the Mystic Aquarium. Two brothers opened the joint in 2009 and their fan base rapidly grew, they expanded to their current location and have been serving Mystic and its surrounding towns ever since!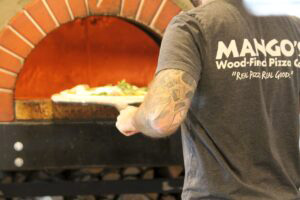 Nanas
Just saying "going to Nanas for dinner" sounds super comforting.. and it's literally over the river (just not through the woods) to Nanas cafe. Their pizza consists of a sourdough base and only the finest and unique ingredient pairings. Can we talk about the New England Pizza…potatoes, bacon, clams, garlic butter, parsley, pepper, just amazing, I'm becoming a bigger Sox fan with each bite. Or take a trip around the world to try their Curry Lentil pie, you can also keep it simple with their Nana's Tomato pie.
Mystic, Connecticut is a gorgeous town on the Mystic River and Fisher's Island Sound. There are endless places to eat, drink, shop, and boat. Stay tuned for more blogs on what you can do in the area, and if you're looking to make Mystic, CT your new home, give us a call or visit our office in downtown at CENTURY21 Shutters & Sails to get your search started!
41. East Main St. Mystic, CT
(860)-331-1510
Hours:
Pizzetta
7 Water St. Mystic, CT
Sunday, Tuesday-Thursday 12-9
Friday-Saturday 12-10pm
Monday 3-9pm
Mystic pizza
56 W Main st. Mystic, CT
Monday-Sunday 10am-10pm
Mangos
27 Coogan blvd Building 8, Mystic, Sunday-Thursday 11-8
Friday-Saturday 11-9
Nanas
32 Williams Ave, Mystic, CT
Monday-Sunday 7am-8pm